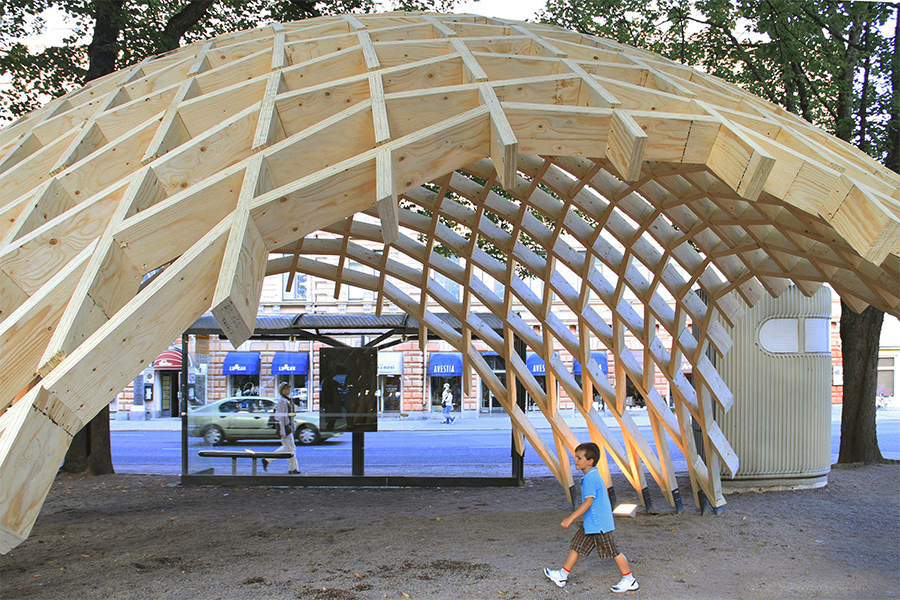 Pudelma
Kerto wood laminate, steel connection
L: 5.5m W: 2m H: 2.5m
A collaborative effort between the Architecture departments of Columbia University (USA) and the University of Oulu (Finland), the pavilion was constructed for the Turku European Capital of Culture 2011. It explored the latest digital fabrication techniques and traditional Finnish wood craftmanship.
Commissioned for the European Capital of Culture 2011, Turku, Finland Exhibited as part of the Finland Pavilion at the Venice Architecture Biennale 2012
in the press Archdaily

/

Design Playgrounds

/

Timbertown
Columbia University: Philip Anzal
one, Brigette Borders, Oulu University: Rainer Mahlamaki, Matti Sanaksenaho
Project advisors: Eero Lunden, Ravi Raj, and Markus Wikar.
Design / build team: Charlie Able, Joe Brennan, Therese Diede, Justin Fabrikant, Taneli Heikkila, Taavi Henttonen, Lotta Kindberg, Michaela Metcalfe, Victoria Monjo, Sampo Ojala, Jocelyn Oppenheim, Olli Parviainen, Alli Perttunen, Chris Powers, Roula Salamoun, Tuulikki Tanska, Helena Tasa, and Shuning Zhao.
Partners and sponsors: Turku municipality / Finn Forest / Woodpolis